Contact me by email: pacsungro@earthlink.net
Where to See or Purchase My Work
Arts Obispo Open Studio Art Tour.  Every year, we open our home and studio to friends and folks that participate in the ArtsObispo annual Open Studio Art Tour. We have four or five local artists that display their work here on our acre. This year we are sharing our space with Maggie Wagner (succulent planters and succulent plants to pair them up with), Robert Perry (beautiful hand turned wooden pots and photo realistic paintings), Mike McNutt (welded metal one of a kind pieces) and me (functional ceramic, a few succulent planters, and a few hideous glass masks).
This year we are only participating in the first weekend - October 14th & 15th, from 10am to 5pm, 2017
For more information, check out: http://www.sloartscouncil.org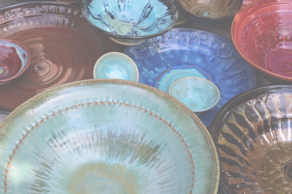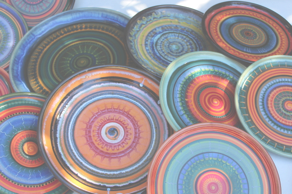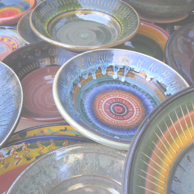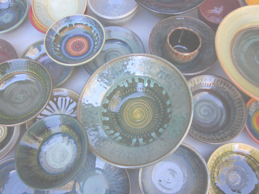 The Gallery at the Network - San Luis Obispo.  The Gallery at the Network is in the process of moving to Paso Robles. Check them out on the web to track their progress. www.galleryatthenetwork.com. New address is 1320 Park Street in Paso Robles.
Ben Trogdon
~ Ceramics and Fused Glass ~
Baja Beach Company - Plaza Del Pueblo.  This is a great gift shop if you find yourself in Los Barriles, Baja California. I also have a small work place in Los Barriles and enjoy selling the things I make in Mexico at the Baja Beach Company!
5 - Cities Homeless Coalition - Empty Bowls.  Each year I donate 50 to 100 bowls to the Empty Bowls fundraiser at St. Patricks School in Arroyo Grande. This is a great group of people working for a great cause. I also usually do bowl throwing demonstrations at this event. Check out their website at: www.5chc.org
Santa Barbara Food Bank - Empty Bowls Santa Maria.  Another great group of people! Each year I donate 50 to 100 bowls to the Empty Bowls fundraiser at Empty Bowls Santa Maria. The event is at the Santa Maria Fairpark. Last year this group raised $39,000 at this event! Check out their website for more information at: http://www.foodbanksbc.org